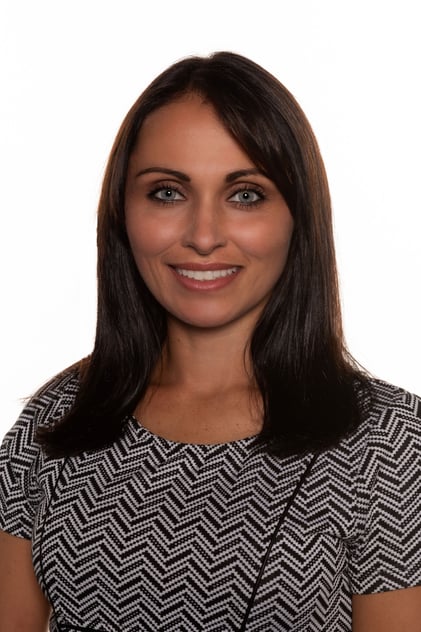 Lisa Almodovar
Licensed Real Estate Salesperson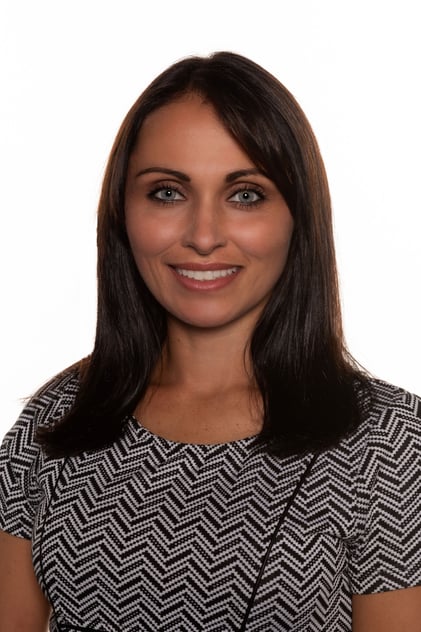 Larchmont
1910 Palmer Avenue
Larchmont, NY 10538
Lisa has lived in the Sound Shore area most of her life. As an alumna of the Rye Neck school district, a former resident of both New Rochelle and White Plains, and now a homeowner in the Orienta section of Mamaroneck, Lisa knows the Sound Shore and surrounding areas very well. This firsthand knowledge provides Lisa with exceptional insight into the local community to best serve the needs of her clients.
After graduating from Boston University's School of Management, Lisa began her career in finance serving as a financial accountant for several multi-billion dollar hedge funds and private equity firms across the world. After more than a decade in finance, Lisa decided to transition into real estate and join the Julia B. Fee Sotheby's International Realty team. Her strong attention to detail, resourcefulness, and client service capabilities provides a solid foundation to properly service both buyers and sellers.
Lisa lives with her husband, Carlos and their two young children, Alyssa and Lucas. Upon moving into their Mamaroneck home, Lisa has embarked on countless renovation projects to bring their 1940s home into the 21st century. She has a keen sense of seeing the true underlying value of homes when many others cannot.
When Lisa is not assisting her clients, she can be found with friends and family, cooking, or traveling the world. Despite her long-term roots in the Sound Shore community, Lisa is a global citizen having visited over 50 countries. This worldly outlook, coupled with Sotheby's global connections, allows Lisa to not only represent her clients locally, but internationally too.
READ

MORE

LESS
Born In

Bronx, NY

Lives In

Mamaroneck, NY

Interests

Traveling, Skiing, Jogging, Camping, Cooking

Inspiration

My Family
READ

MORE

LESS
Agent Designations
Licensed Real Estate Salesperson
My Awards
Top 100 JBF Sotheby's Agent - 2022
Top 25% JBF Sotheby's Agent by $ Volume - 2021, 2022
Testimonials (21)
Lisa was very professional and she took the time to listen to my needs. She was on point with all of my requests. I would love to work with her again Faten Ibrahim
Lisa is one of the most hard working, intentional, and caring people I have ever worked with. She puts the client's needs first and is willing to go above and beyond to make this stressful process as smooth and positive as possible. I would 10000% recommend working with her if you are looking to purchase a property.
Lisa has a fantastic combination of being extremely hard-working, knowledgeable about the area and responsive while also staying calm. Homebuying can be intense and we absolutely loved working with Lisa. She was recommended to us by a colleague and we've already recommended her to friends.
Lisa was amazing! As first time home buyers we had our hesitations and worries going through the process but Lisa was always there with great feedback and to ease any issues. She worked tirelessly through the challenges of the process and we truly could not have gotten it done without her!
Lisa was lovely to work with! She really knows the area and very quickly understood what we were looking for. I never felt pushed to consider a home that wasn't EXACTLY what I was looking for and she often knew just by looking at the listing if I would like it or not. I was also surprised at how she predicted our final offer price - so she really knows what it'll take to get your dream home in this crazy market. Super responsive via text as well.
My name is Indira. We have been working with Lisa since 2019. She help us purchasing the house 2020 and now renting the apt. She will guide you with all the details needed to make sure everything is good. We have had a best experience working with her.
Lisa was great from the first day we met her looking at a rental property, and she was just covering for a colleague that day, until we grinded our way to the closing.  We couldn't have found a better person to work with if we had tried.  Very patient and no question was too dumb or elementary.
I don't usually write reviews, but I felt that our agent Lisa deserved one.  Buying a house is a big decision and Lisa was so patient with us.  Listening to our concerns and guiding us to ultimately buying our first house.  We enjoyed working with her, she is very kind, patient and knowledgeable.  She wouldn't give up till she found a house we absolutely loved.  Can't even express how much we appreciate all she did for us.  Thank you so much Lisa.
Lisa Almodovar exceeded our expectations and more.  She does what is expected of a realtor and takes it a step forward.  She's a great communicator and understands our needs.  She is also an overall amazing person and I recommend her to anyone in search of a realtor.
Lisa was our realtor on the purchase of our home in Mamaroneck. We moved from NYC so we knew very little of the community/neighborhood. Lisa was extremely knowledgable about the neighborhoods and schools. She chose homes to show us that had a lot of the items on our wish list and took time to get to know our personal preferences and style of home. She helped us weigh the pros and cons of different homes and neighborhoods and helped to ask the right questions to the realtors. We also wanted the option to expand the garage and add a pool to our home and she knew a lot about what we would need in terms of a home and space to make that happen. Lisa also put us in touch with families in the community to help us get a perspective on life there which was extremely helpful! She also helped us on negotiating the price and terms of the home and deciding on the right offer! We were very pleased with our experience with Lisa and have already recommended her to friends moving to Westchester!
Throughout our journey in searching for our new home for our family of four, Lisa felt like a family member getting to know our likes/dislikes, preferences & needs. She also maintained her professionalism in guiding us through the pros/cons of each listing we visited, provided information about towns/history, researched/answered additional questions we had & offered her earnest opinions. She was attentive, thoughtful, & positive throughout the process. Ultimately when we found our home, Lisa was with us every step of the way through the closing & celebrated wholeheartedly with us in our excitement of our new home.
Lisa Almodovar helped us list and sell our house quickly and efficiently. It was a pleasure to work with Lisa. She provided invaluable guidance on how to stage our home in a cost effective manner. Lisa always made herself available to speak and answer questions about the house sale process. Her knowledge and experience of the local neighborhood is an outstanding benefit of working with Lisa. She saved us much time, energy, and helped us to avoid frustrations by informing us how to proactively navigate the selling of our home. It's clear that Lisa cares deeply about her clients. She goes above and beyond with her attention to detail, creative solutions and commitment to be available (both by phone or in person) when needed. She listened to our concerns and anticipated our needs with compassion and care. We definitely recommend working with Lisa! She's a great person to partner with on such an important journey!
Look no further! It was an absolute pleasure to work with Lisa and would highly recommend her to anyone trying to buy, sell, rent or find tenants. She was very knowledgeable, responsive and helpful throughout the process of renting out our house. She knows the area well and made the entire process seamless for us first-timers. Lisa even helped coordinate handing over the keys while on vacation overseas! Thanks again to Lisa and her team.
Lisa is great! She was very helpful to us as a buyer's agent when we were looking for a house in Mamaroneck – in a very tough sellers market. She knows the area very well, and she helped us find the house and win a bidding war, without being overly pushy. She was always very professional, organized, and available whenever we needed her help. She came to inspection for us as we were away and couldn't attend. Gave us a lot of recommendations for local services which was most helpful. She is also a really nice person. Would highly recommend Lisa as a seller's and buyer's agent.
We were so lucky to have had Lisa as our real estate agent in the purchase of our first home! We had been dealing with other agents that did not provide us with the support and investment that Lisa did. Not only is she familiar and knowledgeable with the local area, she is professional, kind, experienced and there for you every step of the process. We felt like Lisa was in our corner and was truly invested in helping us find the perfect house for our needs. Lisa was great in getting to know us, asking questions and working hard to find out what we liked and prioritized. She was someone we could count on during the highs and lows of this process with questions, advice, a listening ear and good laughs. If we ever plan to sell/buy in the future, we know who to call!
Lisa Almodovar is by far the best real estate agent I have ever worked with. Responsive, efficient, and incredibly knowledgeable in the area I was looking to buy in. Searching for the perfect home can be incredibly stressful at times, but with Lisa it was not! From start to finish, I always felt I was in good hands working with her. I have already recommended her to several friends. She was such a pleasure to work with.
Lisa did an incredible job helping us sell our current home, as well as with buying our new one. She was proactive, thoughtful, and extremely responsive throughout the entire process. Lisa was a pleasure to work with, and made our experience a truly great one. I HIGHLY recommend her, she was amazing!
We met Lisa at an open house and decided to embark on our home search journey with her. We never regretted that decision. Lisa proved to be a highly competent professional in her field, presented us with many options and with her help we had a chance to have a look at several properties, until we found and bought our dream home. Lisa was very helpful along the way, assisting us at every stage until the day of the closing and beyond. We were really taken by her kind and cheerful, yet very professional personality and how she tried to get to know our family in order to find exactly what we were looking for in a home. Also, her network of connections and the knowledge of the neighborhood proved very useful and saved us time and effort, making the overwhelming process of becoming a home owner go as smoothly as possible. All in all, if you're looking for a real estate professional, look no further. Lisa Almodovar is the person to turn to in your search for an ideal house! Past Client
Dealing with Lisa was a real pleasure. We had been dealing with other agents and they weren't really listening to what we wanted. Lisa really listened to us and only showed us the properties she felt best fit our buying criteria. Lisa not only found us a great home, but it was also in an area we love with affordable taxes. Although she was there for us, she was careful not to interject her opinion unless we asked for it, leaving the decisions totally up to my wife and I. I never once felt like she was just working for a commission. She was very thorough in not only understanding the home, but she made sure my wife and I were fully informed in all aspects of the home buying experience. She was always reachable and acted very quickly when it was time for us to make an offer. All in all, my wife and I highly recommend her. Anonymous
We worked with Lisa to find a rental property. She listened to our needs and helped to identify properties that matched them. There was no time wasted looking at properties that didn't meet our needs or that weren't in budget. She was flexible and accommodating. Most importantly we felt she was upfront and honest with us about the rental market. Lisa is very knowledgeable when it comes to the area generally. After signing our lease she has continued to provide us with tips and information on the area. We would highly recommend using Lisa! Anonymous
We worked with Lisa when purchasing our first home outside of the city. We couldn't have found someone more knowledgeable about the Mamaroneck-Larchmont Westchester area, as well as dedicated, engaged and helpful. Lisa grew up and now lives in Mamaroneck and she not only has a unique understanding of the real estate market in the area but was an enormous help in navigating any aspect related to moving there. Lisa was committed to ensuring we found the best possible home for all our needs and she worked tirelessly to make it happen. The process— which could have been quite stressful at times— became a pleasure in her stewardship and she helped us find a house that was so much better than we ever imagined when we started the process. Lisa was responsive at all hours of the day, took initiative to find more information for us at every step, and was a true friend when giving us advice. We always felt Lisa had our backs covered and our best interest in mind. She made us feel supported and prepared to navigate each step of the process by always being a step ahead. We wholeheartedly recommend Lisa, she will find the best house for you and make the process a pleasure! Anonymous
Yes, I would like more information from Sotheby's International Realty. Please use and/or share my information with a Sotheby's International Realty agent to contact me about my real estate needs.
By clicking Send Message, I agree a Sotheby's International Realty Agent may contact me by phone or text message including by automated means about real estate services, and that I can access real estate services without providing my phone number. I acknowledge that I have read and agree to the Terms of Use and Privacy Policy