Since its founding in 1744, Sotheby's fine arts auction house has earned a reputation around the world for connoisseurship and a keen eye in the valuation of treasured objects. This reputation is built as much upon exceptional service as it is on the notable art, antiques, jewelry and collectibles that pass through Sotheby's auction rooms around the world. Now the oldest company listed on the New York Stock Exchange (BID), Sotheby's has a global network of 90 offices in 40 countries, and presents auctions in salesrooms including New York, London, Hong Kong and Paris.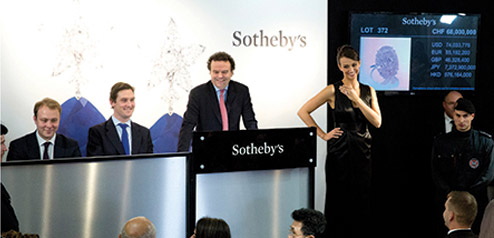 In 1976, Sotheby's recognized a unique opportunity to serve its clients in a valuable new way by offering a comprehensive package of real estate services. Today, the Sotheby's International Realty® brand continues the tradition of exceptional service upon which Sotheby's was founded more than two and a half centuries ago, and maintains an enduring and exclusive marketing relationship with the auction house that provides unique benefits to agents and clients alike, offering targeted exposure to a coveted and influential audience.
These benefits include exposure for our properties on the auction house's website, sothebys.com, as well as through a literary collaboration that includes three beautifully designed magazines featuring sophisticated content related to both art and real estate. These publications are variously distributed to premier auction clients, global auction locations, international hotels and more. In addition, our sales associates are invited to participate in high-profile auction events, where they have the opportunity to connect with potential buyers and sellers among the auction house's high-end clientele.
---