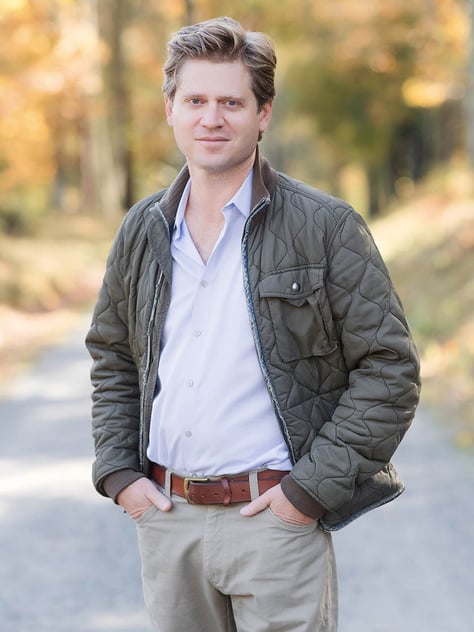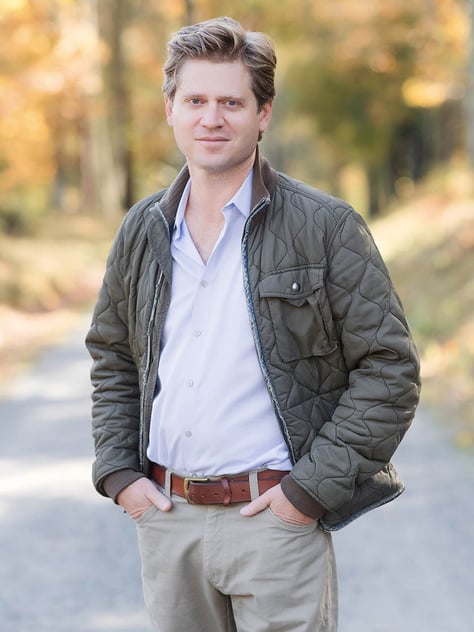 Lenox
26 Church Street
Lenox, MA 01240
Jared brings a wealth of real estate, legal, and unique life experience to William Pitt Sotheby's International Realty.
Jared joined Sotheby's as an associate broker in 2016, leaving behind a successful legal career in order to plant roots in the Berkshires to raise his growing family. He quickly established himself as a rising star in Berkshire County, culminating in his recognition as William Pitt Sotheby's top-producing agent in Berkshire County in 2019. Thereafter, he joined Chapin Fish as co-owner of Brockman Real Estate, a leading boutique agency in the Berkshires. In 2021, Jared and Chapin were the top-selling team (co-listing agents) in Berkshire County, with over $34 M in sales. They have collectively sold over a quarter of a billion dollars of real estate in Berkshire County.
In 2022, Jared and his business partner, Chapin Fish, created The Brockman Group at William Pitt Sotheby's International Realty, combining the local renown and expertise of their agency with Sotheby's unmatched reputation and global reach, creating a new standard of excellence in the Berkshires.
Known by his clients as "smart as a tack," "impeccably honest," "incredibly responsive," and a "consummate professional," Jared is perhaps most appreciated, however, for his ability to simplify complex issues, calm everyone's nerves (even by "making me laugh"), and offer "guidance worth several times his commission."
Prior to moving to the Berkshires with his wife and family, Jared practiced law at two premier international law firms (Proskauer Rose and Goodwin Procter) in Boston and San Francisco, where he worked as a litigator with Fortune 500 and international companies.
Jared and his family are heavily invested in the Berkshire community. Jared is the Chair of the Egremont Planning Board, his wife Danile is a member of the Southern Berkshire School Committee, and their two young sons are active in local schools and sports.
When not in the Berkshires, Jared is passionate about international travel. He has traveled in approximately 60 countries, including overland across Asia, in sub-Saharan and northern Africa, almost all of Latin America, and throughout Europe.
READ

MORE

LESS
Languages Spoken

Spanish

Born In

California

Lives In

Berkshire County

Passion

International Travel

Interests

Travel, Sports, Food, My Kids, Traveling, Camping, Cooking, Skiing

Can't Live Without

New Experiences
READ

MORE

LESS
Testimonials (8)
I couldn't have had a better experience. Jared and Chapin guided and supported me throughout the process. They are smart, experienced, honest, available, professional and kind. The best!!! Jennifer Michaels
Hands down, Jared is the best real estate professional I've ever worked with. After dealing with several brokers and feeling disappointed in my search, I met Jared. Jared helped me find, negotiate, and buy my dream property. He's a true professional and knows his business, and his community, inside and out. And he's also personable, helpful, smart as a tack, efficient, and incredibly responsive and engaged. That's a killer combination and, in my experience, very rare to find. I felt personally cared for, tended to, and looked out for at every turn. Jared was a real advocate and asset, and went above and beyond with helpful recommendations, referrals, context, and guidance that really made the process easy. Couldn't recommend him more. Dan S
Jared was the consummate professional throughout all of our interactions -- thorough, detail-oriented, reliable and responsive, but more than that, Jared looks out for his clients and conducts his business in an extremely honest way. I always felt that Jared was more concerned with helping me to find a place that would make me happy rather than trying to get me to buy something for the sake of the commission...Jared went into the office late one night the week between Christmas and New Year's to work on and submit an offer for me so that it would be the first one seen. I can say with certainty that I would not have gotten the house that I did at the price that I did without Jared's devotion to his job. Bailey
Jared was an amazing asset to our transaction. Without him we would not have been able to buy the house of a lifetime. He is impeccably honest and easy to work with. His good advice and even keel kept us on track and got us a house in the right place at the right price. Jared's knowledge of the Berkshire market made our choice easy. His guidance was worth several times his commission. Thanks for everything Jared. Best home purchase ever. Randy J
Jared Kelly is nothing short of a singularly indispensable resource. While we had met a number of brokers prior to Jared, Jared stood out immediately as being extremely knowledgeable, resourceful, honest/trustworthy and easy to work with. Jared was always available and responsive when we had questions or needed advice or recommendations..he never once tried to pressure us or convince us to lower our expectations so that he could simply close a deal and move on. He is also quite detail oriented and strategic...we felt enlightened and taken care of at all times. I could not recommend him and his services more highly. Joshua S
Jared is an excellent seller's and buyer's agent. I had the opportunity to buy a house through Jared, and he assumed a dual agent role in this complicated transaction. He was always professional and I felt he genuinely wanted both parties to be happy with the transaction. He balanced a proper amount of diligence with measured consideration, never being overly aggressive. He was just starting out in this area [in 2016] after transitioning from the legal profession. I think his background helped him navigate our deal. Decided to use him to list my house, despite having a number of friends in the field that I could have chosen instead. I have no doubt that he will rapidly rise to the top of the agents in the Berkshires. Andrew B
Fantastic. When a house you are selling is 3,000 miles away, it's especially nice to know you've got a realtor looking after it who's not only on the ball and has a good eye, but whose advice you can trust. On top of which, Jared Kelly never once got the five hour time difference wrong...He was an absolute delight to deal with, start to finish, plus made me laugh--which, for my money, is right up there with getting the best price. Elise R
Jared provided thoughtful and thorough counsel throughout the buying process. He is-- without fail-- genuine, approachable, and responsive. I am so thrilled with my new home and grateful to Jared for being a wonderful advocate and facilitator! Liz K
Yes, I would like more information from Sotheby's International Realty. Please use and/or share my information with a Sotheby's International Realty agent to contact me about my real estate needs.
By clicking Send Message, I agree a Sotheby's International Realty Agent may contact me by phone or text message including by automated means about real estate services, and that I can access real estate services without providing my phone number. I acknowledge that I have read and agree to the Terms of Use and Privacy Policy