Fall is no longer just a season — it's a whole state of mind. Fall fashion, fall food (ie, pumpkin spice everything!), fall road trips, and fall home décor are a must for today's stylish set. And perhaps nothing says "fall" more than an Instagram-worthy front porch decked out with all the best fall trends.
How to get the coveted look? It's not just about piling on the pumpkins and buffalo plaid (though that's a good start); you'll also want to think about what makes sense for the size of your porch, your home's style, and the climate where you live. Here's a helpful breakdown of the what, when, and how of creating the fall front porch of your dreams.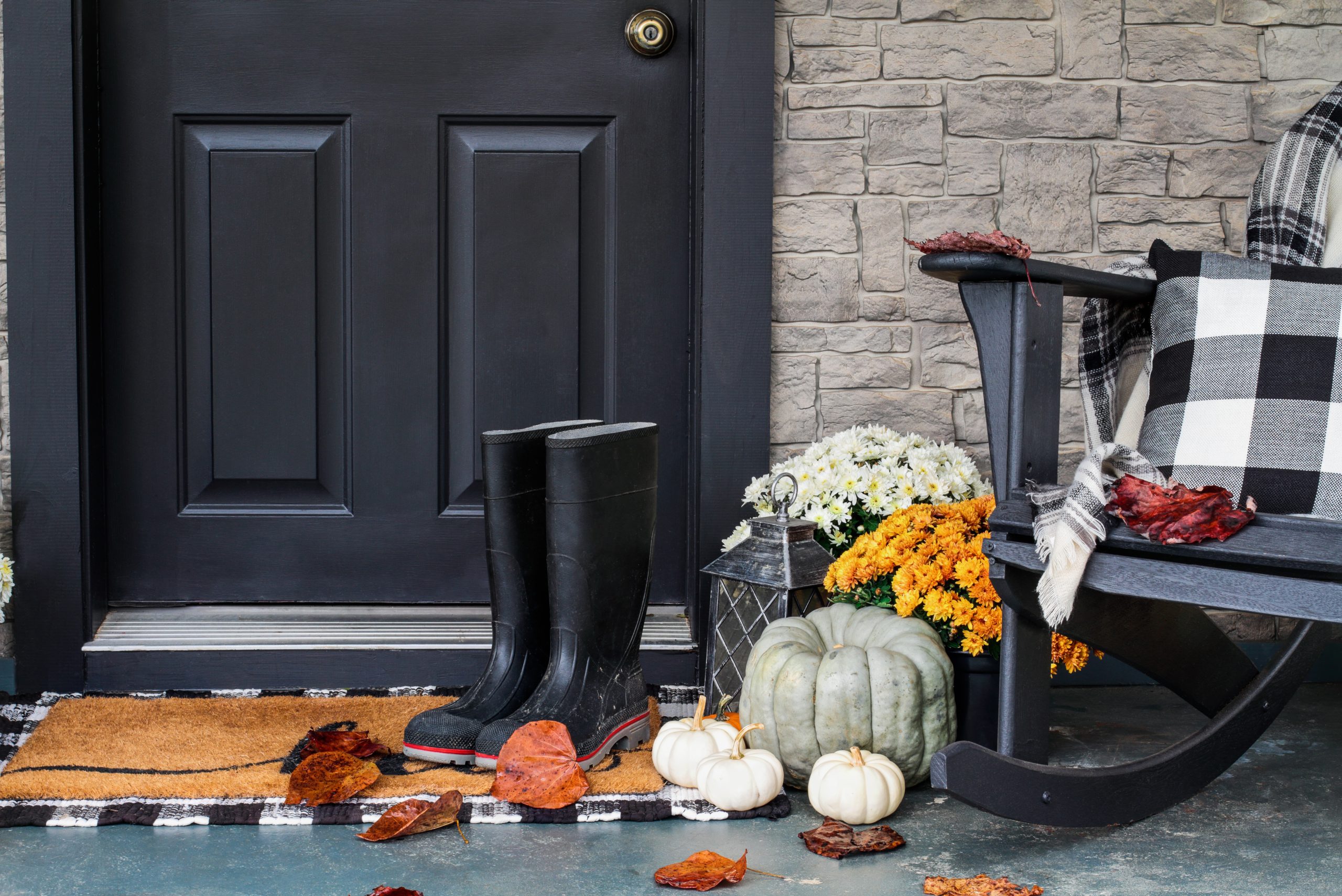 What items do I need for fall porch styling?
Incorporate your own personal design style — from traditional country fall to upscale farmhouse fall to elegant understated fall — to make your specific list, but here are some of the basic staples of outdoor fall styling:
Fall flowers: mums (we recommend using several different colors), ranunculus, ferns, marigolds, sunflowers, berry stems, oak branches, ornamental kale, potted grasses, etc.

 

Pumpkins: The more the merrier! Be sure to get them in varying sizes and shades.
Gourds: Again, arrangements of multiple gourds in different sizes and colors have great impact.
Cozy, festive pillows and blankets
Lanterns
Candles
Fun, spooky Halloween decorations

 

Welcome mat and/or porch rug in chunky textures/earth tones
Hay bales
Door wreath (faux or real)
Also, keep in mind the size of your porch when planning your décor list. If you have a large, wraparound porch, for instance, you'll probably have a front entry, front steps, sitting area, and maybe even a dining area to style, so you'll need a full range of accessories. For smaller homes, you can get away with just a few things around your front entry and stairway.
Do I have to decorate with traditional fall colors?
While a porch resplendent in red, yellow, and orange is always a beautiful fall option, you can certainly take a break from tradition and experiment with a more unexpected color palette as well. Try whites and pastels paired with rustic accents for a farmhouse feel, or go totally black, white, and orange for full-on Halloween vibes. 
When should I decorate the porch for fall?
There are two types of fall decorators: the ones who start scrolling through fall décor photos in July and those who only get the hint when the mums are almost sold out at the local Whole Foods. Somewhere in the middle is the right time to start thinking about what you want on your porch for the autumn season. 
It's always safe to time your fall porch styling with the official start of autumn around September 22 — or, depending on where you live, when you feel the change in the weather. Back-to-school season (the beginning of September in the Northeast and a few weeks earlier in other parts of the country) is also a good indicator that it's time to get going. Our advice if you're itching to usher in fall ASAP: start with the non-perishable items like pillows, lanterns, fall doormat, etc., and then add in the "live" items like pumpkins, flowers, and other greenery a little later.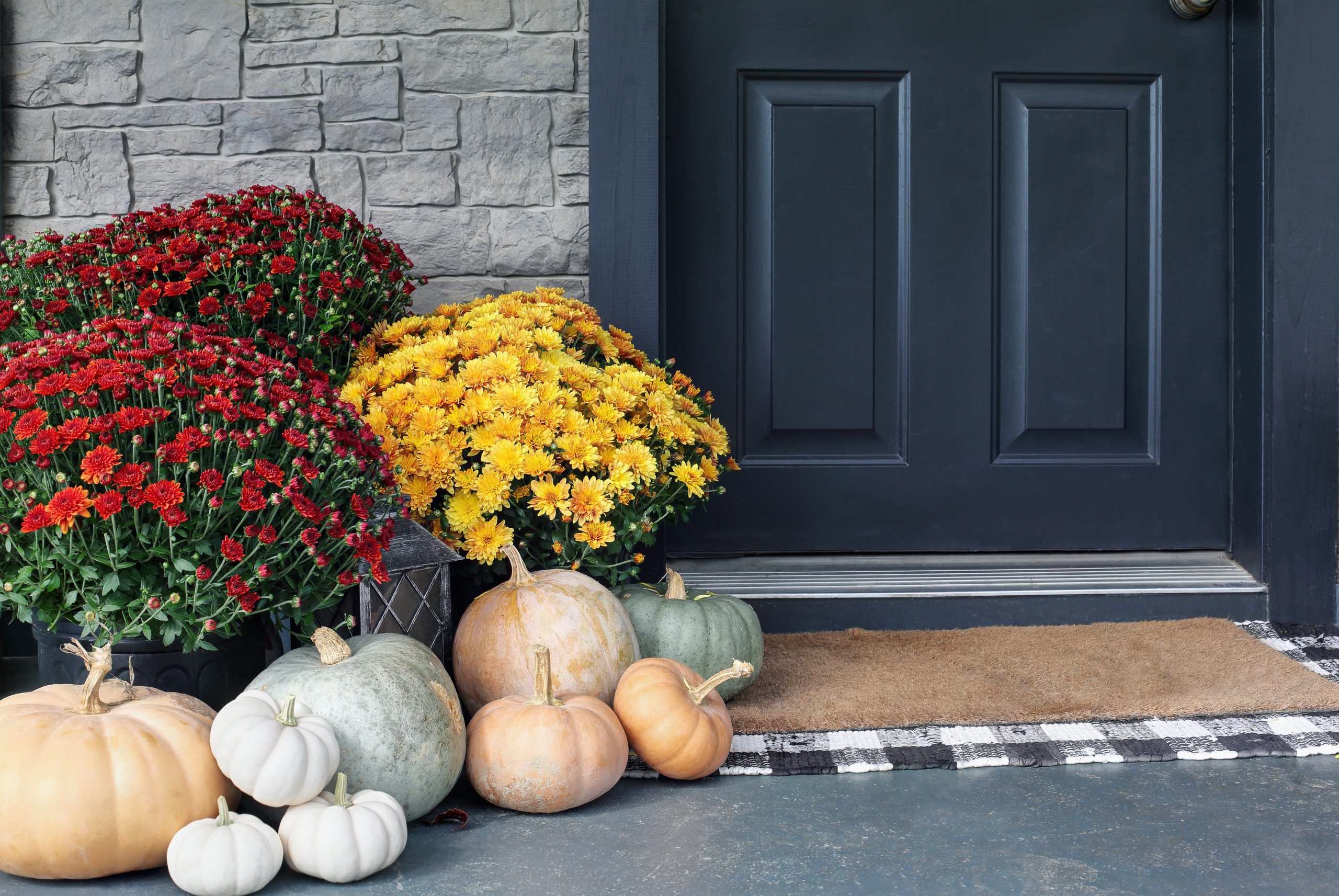 What do I need to do to keep mums and pumpkins fresh?
Mums prefer cooler temps, and will bloom for roughly 6-8 weeks, so mid- to late-September is the ideal time to buy. To avoid the rotted-pumpkin conundrum, add them to the porch in late September. Pumpkins do best in "Goldilocks" temperatures (not too cold, not too hot) and should stay fresh for around 2-3 weeks. Carved pumpkins, however, will only last a few days to a week. (Experts say spraying your pumpkin with WD40 or rubbing it with petroleum jelly will help preserve it.)  
To skip concerns over timing and how long your fall foliage items will last, consider going faux. Artificial flowers, pumpkins and gourds are great, as they last longer and don't attract bugs or other pesky critters like squirrels and chipmunks.
Where can I get great fall porch style ideas?
The internet is filled with fall porch décor ideas. Try Instagram and Pinterest for a visual overload of all things fall. Home décor magazines such as Better Homes & Gardens and Southern Living will also inspire you. Big box stores, including Home Depot, Lowes, Home Goods, and Hobby Lobby, as well as home design stores including Williams Sonoma, Restoration Hardware, and Pottery Barn, all have great ideas. Also, take a drive around your neighborhood and borrow inspiration from other homes. 
Happy fall styling y'all!