By Laura Gaskill

Dark wood floors can be incredibly chic and sophisticated, bringing richness and polish to a space. But when paired with the wrong furnishings and colors, those floors run the risk of making the space feel dark and heavy. If you've been wondering what to put with your dark floors to bring out their best features, try these ideas.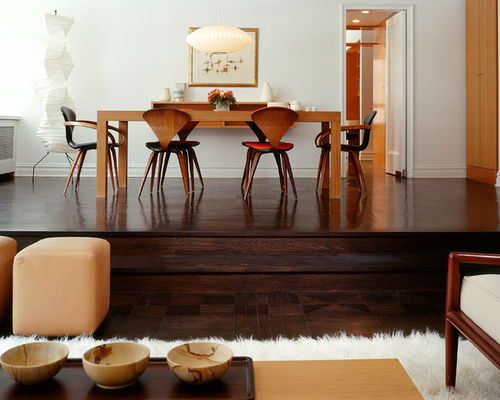 Specht Architects, original photo on Houzz
White walls and light wood furniture. For the most harmonious look, choose wood furniture that matches the warmth of your floors but is a few shades lighter. For instance, pair grayish or black wood floors with pale, weathered woods, and pair warm, rich floors (like the ones shown here) with warm medium- to light-toned woods like cherry or maple. The lighter wood furniture, fluffy white rugs, and crisp white walls here provide contrast to the dark wood floors without appearing stark.
Match furniture legs to the floors. You don't always need contrast where dark floors are concerned — matching wood furniture as closely as possible to the color of your floors is a simple way to make your space feel elegant and put together. If you are choosing to match furniture to the floors, go with a lighter color on the walls. It doesn't need to be white, but the wall color should be significantly lighter than the floors and furniture to keep the space from feeling heavy.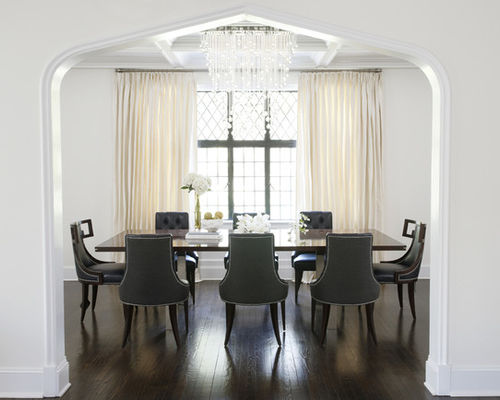 Kwinter & Co, original photo on Houzz
Mixed woods and white. Echo the natural variety of trees in a forest with an organic look like this one. A dark wood table almost disappears against the dark floors, while the light wood chairs and pendant light stand out. Crisp white walls and plenty of greenery complete the look.
Add a Hint of Color With Lovely Lavender
Rich wall color and kilim rug. If you crave color, choose a hue you love in a rich, pigmented shade and paint the walls or the back of a bookcase with it. Echo the color in a patterned kilim or other flat-weave rug. The combination of patterned textiles, rich color and dark floors creates a cozy and welcoming feel.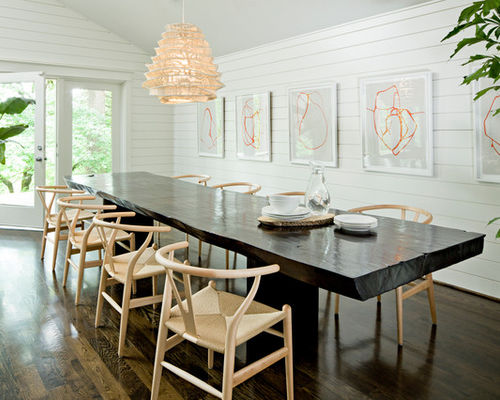 Jessica Helgerson Interior Design, original photo on Houzz
Dark rug, light walls. A patterned rug in a dark pattern will make your room look richer and more interesting without calling too much attention to itself. Give all of those dark hues a lift by painting the walls and ceilings crisp, clean white. If you prefer a bit of color, go with a whisper-light blue or lavender.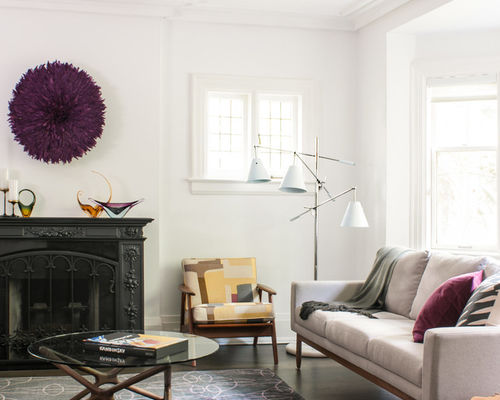 Shirley Meisels, original photo on Houzz
Marble, white, bronze and wood. Dark wood floors in the kitchen can be very chic. Keep the overall effect elegant and light by balancing the dark floors with white cabinetry and walls, warm bronze metals and wood accents just a few shades lighter than the floors.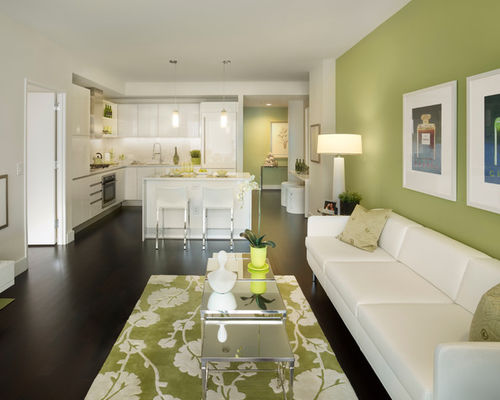 Gacek Design Group Inc, original photo on Houzz
Bright hue plus white. Celery green was used here, but nearly any bright hue would work. The key is to balance a big splash of color (like the accent wall and rug here) with plenty of white, and keep other colors to a minimum.
Stylish Kitchen Gadgets That Act as Decorative Accents
"Muddied" hues and layered textures. For a sophisticated urban look, try mixing a range of textures like leather, hide and velvet in soft, muddied hues— think gray, 'greige,' taupe and sage. For furniture go with dark woods and natural steel.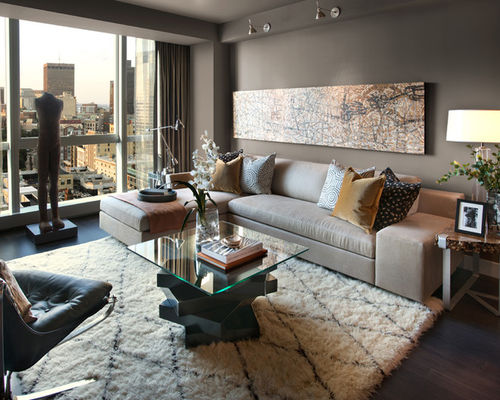 L.Pumpa Designs, original photo on Houzz
Greige walls and Moroccan rug. Shaggy Moroccan rugs go with nearly everything but look especially great atop dark wood floors. Pair yours with warm greige walls and neutral furniture for a sumptuous look.
Introduce Color and Comfort With These Recliner Chairs
Design dilemma: "My wood floors are too dark!" Flooring too dark but you don't want to redo it? One lovely option is to paint the walls pale blue with white trim, hang warm bamboo shades, and roll out area rugs in soft colors to define zones.
Another way to work around too-dark flooring is by covering up as much as possible, using room-size area rugs. This works best in low-traffic areas like the bedroom.