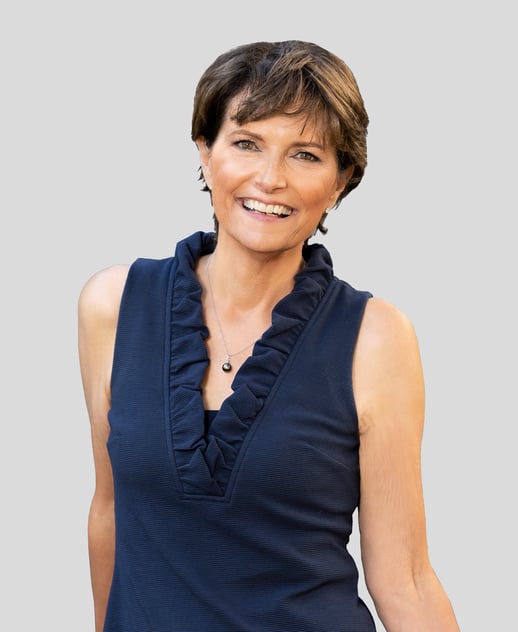 Toni Mickiewicz
Licensed Real Estate Salesperson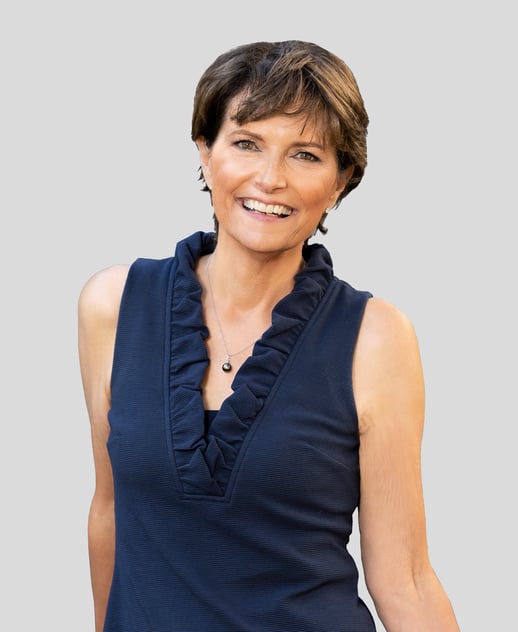 Westport
199 Post Road East
Westport, CT 06880
I haven't always been a Realtor, although it might have been an easier path to go into the family real estate business right from the start. My Grandfather founded Town and Shore Real Estate Company in Norwalk before it became DiScala Associates and morphed into a commercial real estate company. But I was more interested in psychology.

I was the first in my large family to go off to college and get my master's degree. I loved being a psychotherapist, and as a profession it was a good fit for me. Coming from a large family with questionable boundaries and overly expressive temperaments, I developed a good skill set for helping people. I am told I am a good listener and problem solver, as well as compassionate, honest, and kind.

At some point along my own journey, I quickly realized that these same skills could easily be applied to the real estate profession. It occurred to me that for most people, buying and selling houses isn't just a task, rather the underlying motivation is often fueled with emotion due to some specific life event: marriage, divorce, job relocation, downsizing, extended family needs, all of which bring emotion to the process.

My previous profession adds a layer of expertise in helping people manage that emotional energy that comes with making all of the decisions related to a move. Not always, but often, people just want a calm voice in the storm and a steadfast person that they can trust. Sometimes the relationship becomes more important than the sale. That might sound counter intuitive for a sales person, but I have found that the importance of that relationship is underscored in the repeat business and referrals that my clients give me and I can't think of a nicer compliment.
READ

MORE

LESS
My Awards
Ranked Top 1.5% in the US by RealTrends in 2022
Testimonials (16)
I asked Toni for your email address because my wife and I wanted you to know just how good she is at her job and how well she represents William Raveis. Her demeanor makes her a pleasure with which to work, and she took genuine care in reading through every contract and email that came her way during our transaction while providing solid and unbiased advice. She was extremely responsive in her returned emails and phone calls, and she did not hesitate to make a trip to Town Hall, find a GC or meet us at the house. And to complete the hat-trick, she was able to get us in 11 Berndale before it was even listed. To find an agent with which you enjoy working, who is attentive and unbiased AND can add an absurd amount value throughout the entire process is a rare find. I don't often have reason to write these notes, but Toni is certainly an exception in a very good way. Ryan Bell
I would like to share with you my and my wife's appreciation for all of Toni's effort, hard work, and ultimate success in helping us purchase a new house in Weston (a rather complex transaction, on top of things) as well as sell our old one in Norwalk during one of the most unquestionably challenging and uncertain economic times in recent history. Upsizing and upgrading into our Weston home was our family's most significant investment to date and one we did not undertake lightly; Toni's no-nonsense style, straightforward talk, consistent responsiveness, and wealth of experience in, and knowledge of, the Westport, Weston, Wilton, and Norwalk markets helped us feel comfortable with this important step. We will certainly recommend her to anybody looking for agent referrals in the area. Andrea
I must tell you how incredibly professional and helpful Toni was during my search for a rental. I had very specific needs and criteria that were not easy to fulfill. Toni worked very hard and was successful at finding me the perfect house. Toni called me early one morning and told me something had just come on the market(one of the first things she did every morning was to check the rentals) and that I should meet her there right away. As soon as I saw it I knew she had found the perfect place for me and my two children. She knew exactly what I wanted and needed. Toni was a pleasure to work with. In fact, when we went back to the office to fill out the paperwork, the landlord and his agent commented on the fact that the house had only been listed for about an hour and that my agent must really be on the ball. I agreed wholeheartedly! Lindsey W.D
Toni was always calm, forthright, supportive, flexible, resourceful, responsive and easy to work. She spent a great deal of time and energy developing affective advertising and creative marketing approaches, holding open houses, and having showings. Toni always went above and beyond the call and without her efforts the house might still be on the market. This was particularly true during this time period when the market was changing from a seller's market to a buyer's market. We would recommend Toni without reservation to anyone who is thinking about buying or selling in the Fairfield County area. Toni is a very valuable asset to the William Raveis organization. Frank Haase
Working with Toni to purchase our home was truly a pleasure. She made it a point to really understand the kind of house and neighborhood we were looking for and was able to find several options that met our criteria almost immediately. It was also reassuring to know that Toni grew up in Fairfield County and is very knowledgeable about the area. Toni epitomizes the perfect real estate agent. She is professional, results-driven driven, and thorough, and at the same time, she is personal, friendly, and responsive. If you are thinking of buying or selling a home in Fairfield County, call Toni. You won't be disappointed. Catherine and Jason Futoma
Toni Mickiewicz recently guided me through the successful sale of my condo and three words describe her work ethic and level of commitment -"above and beyond". We faced some interesting challenges because my condo was in CT and I had already relocated to southern NJ, but nothing fazed Toni. Her experience and knowledge were invaluable and I especially appreciated how responsive she was throughout the process. It put my mind at ease knowing that she was on top of every detail, even things that were clearly my responsibility but difficult for me to execute remotely from NJ. I highly recommend Toni to anyone in the market to buy or sell real estate in Fairfield County. Megan Sangster
I just wanted to write you to let you know how much we appreciate all the effort and patience Toni Mickiewicz had when we began our househunting back in 2006. She is a class act and really knows the business of real estate really well. We finally bought a great home in Fairfield in May of 2009 and are very happy with the house. It was all because of Toni. We are looking to upgrade to a larger home in the Greenfield Hill section of Fairfield in the next few years and we will definitely reachout to Toni when we are ready. Jennifer F Briggs
Toni worked with us for 2.5 years and was right there with us as we kissed a lot of frogs trying to find a good deal on a home in Fairfield County. She spent hours retrieving town hall documents, lining up achitecture referrals and giving potential contractors access for quotes. Given our price point, we ended up making offers on a number of places that we later realized needed far more work than we were willing to take on. We even backed out of two accepted offers post-inspection before finally purchasing our home in July. I can't tell you how happy we are that we didn't purchase the first two homes and how appreciative we are that Toni didn't push us into these deals and looked out for our best interests ahead of trying to make a comission.I'd like to offer another powerful testament to illustrate how Toni stacks up with other Fairfield County realtors, and even her colleagues at Raveis. My boss purchased his first home with a very successful Raveis realtor several years ago and he joined my wife and me to view several homes with Toni. After getting to know her, he mentioned to me how pushy his realtor was, and how pressured and manipulated he felt throughout the process. He said he'd never use or recommend his realtor ever again, and after seeing Toni work with us he realized how much better the experience could have been. We recently launched an international fund at my firm, and our new portfolio manager from Sweden asked my boss for a Westport realtor referral. My boss strongly felt Toni was the best choice and made the referral.Toni is a model realtor and the way she conducts business will create repeat business and happy clients that will promote her services to friends and family. This is far better in my eyes than the typical Fairfield County broker that jams through a transaction and may produce good numbers in the near term -- but that's not a sustainable business. Through our experience with Toni Mickiewicz, she has clearly built goodwill for William Raveis Realty and customer loyalty on our end. I recommend Toni based on her hard work and dedication, and most importantly because she is a breath of fresh air in an industry where brokers' fiduciary alignment with customer interests is overwhelmingly poor. Gregory V
I had to give you my feedback on Toni Mickiewicz. Toni has helped us find and purchase our current house and sell our last house. I could not have done it without her. We hit every glitch imaginable (and many never seen before). While purchasing our current house, the sellers were hardly cooperative. A number of unique hurdles arose that we would not have been able to overcome without Toni. Through her aptitude and breadth of experience in real estate, she was able to guide us through this challenging experience. When we went to sell our former house Toni again shined through as the guiding light that allowed us to attain our goals of selling that house despite the challenging market. My only regret is that I didn't know Toni earlier. I wish we had her when we purchased our first house and when we sold my mother's house. There are so many things that Toni taught us. I wish our last two realtors were as adept as Toni. I believe Toni's proactive and creative style really helped us sell our house and overcome the many challenges we faced. I have and will highly recommend her to any of my friends on any part of their real estate journey. Sean & Jean Jackson
To say that Toni is extraordinarily good at her job is an understatement. We gave her an incredibly difficult task in an even more incredibly difficult time period. In the middle of the global pandemic Toni found us a home that exceeded our very specific requirements. We moved into the home eight days after we contacted Toni.Toni is also an extraordinary human being. She handled this very difficult situation with humor, grace, intelligence and compassion. Simply put,Toni is both a great real estate agent and a wonderful human being. You are so lucky to have Toni as one of your agents. She really did an outstanding job.  Joan L.B.
Wow. I don't know if I would call Toni Mickiewicz a miracle worker, but I do know that she's extraordinary and pulled off a remarkable accomplishment for us. She was the listing agent for my in-laws home in Trumbull. We assumed the house would be on the market for a while since we listed the house for sale in the midst of the pandemic lockdown. Talk about flying into a headwind, but Toni proved adept and astute at navigating the currents. Within two days of first listing the house, we had two offers and we accepted the full asking price offer, and an asking price that several people familiar with the area said that we would never come near to realizing. It seems there are often hiccups and unexpected issues that come up with any project. Unfortunately, my in-laws had open permits on the house property, of which we were not aware. Our being in Florida made it impossible for us to easily close the permits. Toni took it upon herself to close the permits and to make sure that everything was in place for an easy and successful sale of the property. We were able to close in just a month after first listing the property. You may not believe in miracle workers, but I believe that Toni Mickiewicz proved herself to be one. Thank you, Toni. You pulled off a miracle for us. Full price and a speedy sale. Frank Don
Let me tell you about my favorite Realtor, Toni Mickiewicz. From our first meeting, I knew I had found the right person to get my house sold. She was direct, honest, energetic, and experienced. I trusted her right away and I couldn't be happier with my decision. The process of selling a home can be very stressful with lots of decisions and ups and downs. Toni was always the calm voice through it all. After she sold my home, she found me a beautiful townhouse to rent. If you are looking for a competent, thoughtful, hardworking Realtor to list your house for sale, I highly recommend Toni without reservation. Susan Galar
We have known Toni for almost 10 years and have done 3 transactions (we sold a house with Toni and moved to the city and when we were ready to come back we bought our Fairfield house with her and 4 years later worked with her to see when we moved to Atlanta). There is no one else we would ever think of working with besides Toni.Toni is an amazing partner who is totally honest, direct, and doesn't play games. She is incredibly patient and will take whatever time is required when you have a million questions, like me. I always knew that when I needed something Toni would have the answer or know exactly where to go to get it. She puts her heart into her work and you will realize that immediately.If you are in the market to buy or sell a home you have to work with Toni. The hardest part of our relocation to Atlanta was not having Toni to work with here. We, in a heartbeat, would work with Toni again. Finally, not only is Toni incredible at her job, she is a great human being who we are fortunate enough to now call a friend. Ed Welsh
We have known Toni Mickiewicz for many years and hired her to market and sell our home in Connecticut when we moved to Florida. We allowed ourselves (and Toni) a few months until we had to be in Florida as the market conditions were less than favorable at that time. Toni was diligent and creative in developing and implementing a great marketing plan. She had print and internet promotions that reached many interested buyers. We were delighted and thrilled that we (and Toni) received 2 full priced offers for our home within 2 weeks. We would highly recommend Toni to anyone in search of a new home or selling their existing home. S.Buono
Toni is not only the best realtor in fairfield county but she is a wonderful person. She is warm and easy to relate to but also knows the realty business inside and out, with many years of experience. Toni makes every client feel that they are a priority and she always goes above and beyond to meet every client's needs, whether it is to sell your home, buy a home, rent a home or find builders to build a home. She is top notch and such a rare find and a true professional! You will never go wrong if you choose Toni as your realtor. We would not be in the home we now love without her. I. Grunebaum
Toni is a true real estate professional with a wealth of knowledge and experience! Her people and negotiation skills are outstanding. We sold during Covid and so she built a relationship with us via FaceTime in advance of listing our home and then made our experience positive. We felt safe with Toni because she knew all of the constraints and followed all of the guidance. She knows exactly when to check in and when to give space. Toni is consultative, practices full and fair disclosure, knows the market, and always put our best interests first. She's amazing! Mark Schalich
Toni Mickiewicz in the News
Patch
William Pitt Sotheby's International Realty Adds New Agent In Westport…
Yes, I would like more information from Sotheby's International Realty. Please use and/or share my information with a Sotheby's International Realty agent to contact me about my real estate needs.
By clicking Send Message, I agree a Sotheby's International Realty Agent may contact me by phone or text message including by automated means about real estate services, and that I can access real estate services without providing my phone number. I acknowledge that I have read and agree to the Terms of Use and Privacy Policy