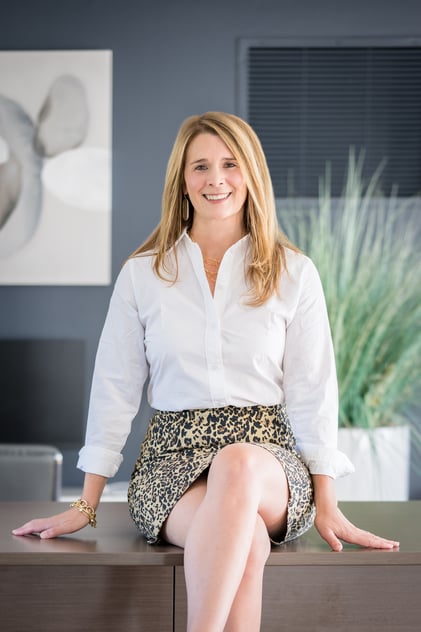 Meredith DeRosa
Real Estate Salesperson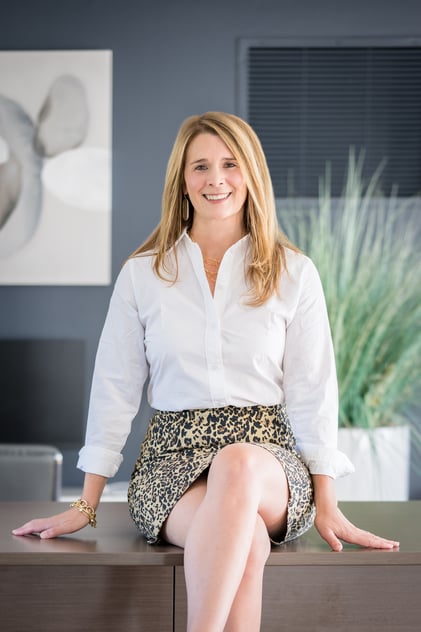 Helping people in the most genuine sense of the word - that's what Meredith DeRosa's life and career has always been about. It is this commitment and dedication to her work, community and clients that make her a compassionate resource and an unrivaled asset. Meredith understands the great responsibility she has in assisting with all of the major life decisions associated with moving, whether you are searching for your first home or transitioning to your next and whether you're moving across town or across the world.
Prior to her career in residential real estate, Meredith worked for years in private client financial services as an Assistant Vice President, Manger with AllianceBernstein (formerly Bernstein Investment Research and Management) and carries with her a strong background in business. After her career in finance she transitioned to the non-profit sector, working in the home health and human services field. This allowed Meredith to hone her interpersonal, communication, and relationship management skills. "I see real estate as a fantastic marriage between my finance and my health and human services background — the numerical and analytical combined with the necessary heart and patience that is always required to make a true and lasting impact with clients."
Meredith brings a valuable perspective on the local area, having grown up in Darien and staying to raise her family locally. The changing landscape of the local market and Fairfield county dynamics are things that she has witnessed and participated in first hand. Throughout her real estate career and her personal life, she has found herself on all sides of the real estate transaction and appreciates the complexities and nuances of each process.
Meredith's commitment to her community expands beyond her career in real estate. She currently serves as the Vice President of the Board of Directors of ElderHouse in Norwalk, a non-profit agency providing compassionate adult day care services to seniors residing in lower Fairfield County. She is also serving a term as a Director for the Darien Board of Realtors, a position held by those who have a keen understanding of the local markets, rules, regulations, and needs of the community.
A graduate of the University of Notre Dame, Meredith remains an active alumna as a member of and volunteer with the Notre Dame Club of Fairfield County. Meredith prides herself, and is well known for, her integrity, strong work ethic, professionalism, and talent for bringing people together in productive and meaningful ways.
READ

MORE

LESS
Agent Designations
Certified Relocation Specialist
Testimonials (11)
"Meredith DeRosa helped us buy our first home and then sell it above asking (1 weekend, 72+ showings, 24 offers!). She went out of her way to help us feel safe during COVID and my pregnancy. Meredith had great ideas to help us easily prepare our home for showing and didn't get flustered when something didn't work out quite right. She has a wealth of personal knowledge as well as a thick "black book" of contacts for guidance. This was particularly helpful during inspections. Although our house was under her typical price point, she gave us every bit as much attention and made us feel like her only clients (I am confident we were not!). Her kind and warm demeanor, knowledge and flexibility make her excellent at what she does. She is humble and ever so easy to work with! I can't say enough good things about her! If we hadn't moved out of state, we would definitely be using her again." Hunter and Michael Arton
"Words could not express how truly grateful we are to have Meredith as a part of our home buying journey. We very much enjoyed looking at all different types of properties with her, and learned so much through the whole process. She is extremely professional and knowledgeable, but most importantly, she offers her honest opinion and thoughts, which we very much appreciated. Meredith went above and beyond when it came to helping us find our home. She was diligent, responsive, and she really listened to what we needed and what we were looking for. Meredith was our advocate through the entire process, and always put our best interests first. She was with us every step of the way, from scheduling and being there for the home inspection, to moving along the mortgage process, to following up with our attorney's office. She also gave us recommendations and suggestions on utilities companies, on great restaurants and other nearby towns, and on clubs and groups that we can join in the area. Meredith has become a friend whose advice we fully respect and trust. We highly recommend working with her! Lynn and Matt Wisnieff
It was such a pleasure to work with Meredith. As first time home buyers and not being in close proximity to the area where we were buying, we needed a lot of help and assistance. Meredith made the process of buying a house enjoyable. Meredith is a true professional, organized, knowledgeable and informative. Meredith went above and beyond to not only show us houses but also introduce us to towns and neighborhoods. We trusted Meredith right away and she always had our best interest at heart, saving us money and time on a number of different occasions throughout the process. She always made herself available for any questions, and, as first time home buyers, we had a lot! I would recommend Meredith to absolutely anyone who is interested to buy or sell, the service you get will be outstanding! Teona Pipiya Johnson
Meredith was instrumental in helping us find and complete the process of purchasing and settling into our new home. She is extremely knowledgeable about Fairfield County and every aspect of the home buying process from the search to the closing. She is attentive, responsive, honest, and   super-helpful. She helped us navigate everything from the inspection process to the set-up of services once we moved in-even in the midst of the COVID pandemic. Meredith listened carefully to what mattered for us and found us the right home. Andrea Byrne
Meredith guided us through the sale of our family home. It was a delicate situation which she navigated with skill and grace. Meredith is a consummate professional. She artfully provided the expertise and extra support needed to bring about a successful sale.  Jerome Shaw
We recently moved to the CT area and Meredith was a delight to work with. She spent so much time introducing our family to all the local communities and provided unbiased information to help us find the perfect home to move into. Our move would have been terrible without Meredith and I would highly recommend her. Alan Daines
Meredith is the best real estate professional I have dealt with. She will be your greatest advocate. She listens to your needs, has incredible patience, is a skillful negotiator and is clearly interested in more than simply making a sale. She gives pros and cons of every situation. Meredith goes above and beyond. She not only showed us houses, she gave us tours of different neighborhoods, shopping areas, train stations, found us a contractor, recommended vendors. She helped us every step of the way over many months and returned every e-mail and phone call promptly. I recommend her highly. Marian Freed
My wife and I had the good fortune to have Meredith assist us with our home search in Darien. Being new to the area, Meredith went above and beyond to show us around Darien and surrounding towns. She really listened to us and carefully selected homes for us to view with the limited time we had and always respected our budget guidelines. Further, she engaged in extensive research on our behalf to drill down on some of our questions. Her expertise and patience allowed us to feel at ease with the overwhelming process of buying a home in a new community. Throughout the entire process Meredith maintained the highest degree of professionalism, gave excellent advice and was always available to answer any questions we had, no matter how small. With her care and guidance we were able to find the home of our dreams. Even after we've moved in, Meredith continues to be helpful and responsive. I highly recommend Meredith to assist you with your real estate needs! Samuel Martin
Meredith helped us find our first home in Norwalk. As New York transplants we didn't know much about the area and as first time home buyers we knew little about the process. She was our expert on both areas. Her knowledge about the Norwalk area was endless and her advice was something we could always count on. During each listing appointment, she made sure to inform us of the pros and cons of the house and area which ultimately helped us make the decision to purchase the house we love so much today. She was our advocate through the closing process, walking us through every step and staying on top of our mortgage broker and lawyer to make sure the process moved along as quickly as possible. It's hard to come in contact with someone who shows passion for their work while expertly balancing the needs of her clients. She was our light at the end of a long tunnel, if you want the best, you want Meredith. Shelci & Oraine
Meredith DeRosa represented us in both the sale and purchase of our home in the Spring of 2015. Meredith was always highly responsive and willing to discuss all questions, concerns and ideas throughout the process. She is highly professional and helped us to successfully sell our house in less than a week at above asking price. She also helped us negotiate successfully on the purchase of our new home. We could not have been happier with the outcome of both transactions. Her service is impeccable and we would highly recommend working with her. Kristen and Walt Ancker
My boyfriend and I recently moved out to Darien from Manhattan, and used Meredith's services which we were both beyond pleased with. She went above and beyond our expectations, throughout our entire home search process. Moving to a new town that is unfamiliar can be overwhelming, yet Meredith did everything in her power to offset any uneasiness while taking the time to not just show potential properties but give a proper tour of Darien and the surrounding towns. In addition to Darien we were looking at Greenwich, however ultimately decided to move to Darien not only because we loved the town and home we purchased, but because again Meredith delivered in going beyond the normal duties of a broker with her knowledge, guidance, patience, and follow up skills. Even after the close of the home she was still present and available with offering us advice on how to become part of the community, clubs to join, and suggested contacts for anything we could possibly need with being a first time homeowner. We would highly recommend her to any friends who may move to the town, and would definitely use her again. Natalie Williams
Meredith DeRosa in the News
Patch
Wow! House: 'Inviting, Light-Filled Colonial' in Norwalk…