New  luxury condominium development in Guilford, Conn., combines historic architecture with modern design
Just last year, scenic Guilford, Conn., hosted a series of special community events in recognition of its 375th anniversary. But that's only the beginning of what this lovely town has to celebrate. It has one of the largest and most beautiful town greens in the entire state, offering free activities throughout the year. It is home to one of the largest arts and crafts festivals in New England, held at the Guilford Arts Center, and it's also close to all of the arts and culture offerings of Yale University and New Haven. It has recently completed a multi-million-dollar effort to rebuild its high school. It's always been popular among the beach and marina-loving crowd, who like knowing that their shorefront haven is equidistant from Boston and New York City, each an hour and a half away. And now, Guilford can add to the list the largest new construction condominium development on the Eastern Connecticut Shoreline, including New Haven, Middlesex and New London Counties.
Standing and gazing out over the site on a recent sunny summer day, across the natural marsh grasses and down to the Guilford Yacht Club just off Long Island Sound, developer Kenny Horton and Ron Nault lay out their vision. "The first of the four buildings is an adaptive reuse of an historic mill on the National Register of Historic Places," indicates Nault, pointing behind us to a 130-year-old building that, over the years, has variously served as a factory for one of the largest wheel manufactures in the country, a World War II-era factory that employed women to assemble ball bearings for military vehicles, and most recently, the site of medical supply company the Clinipad Corporation. An adjoining Quonset Hut structure, one of the largest in the area, will also be renovated alongside the original building; together, they will be known as The Mill. Three brand-new structures to be built will be named the Whitfield, Leete and Chittenden after Guilford's earliest settlers.
According to Horton, whose company the Horton Group is building all of the condo units, the development is constructed to much higher standards than others in the region. "We are building Type II construction with non-combustible materials, using reinforced concrete and steel," he says. "This is rare here, as most new construction in the area is wood frame and put up quickly." Other factors include insulation approaching R-30 rating, approximately 50% higher than the current building code; elevation reaching seven feet above sea level for maximum hurricane protection; cement board siding and PVC trim, for a long, low-maintenance life; and high-quality roofing.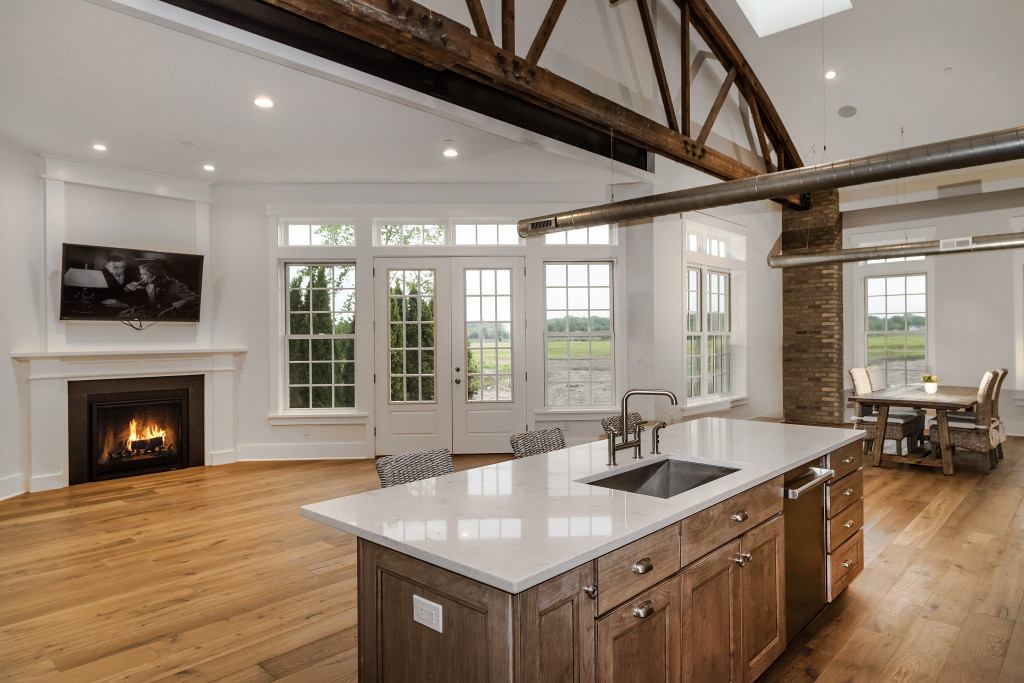 Much of this lies behind the walls, though. In terms of aesthetics, The Mill, which is 90% completed, maintains its historic roots by keeping its locally well-recognized exterior largely intact, but as in all of the buildings, the condos themselves  boast luxurious ranch and townhouse styles with modern design and upscale amenities. (The Mill, uniquely among the buildings, highlights historic industrial features on the inside including exposed heavy timber beams, heating ducts and sprinklers.) Collectively, the buildings will offer townhouses and single-level, two-bedroom units, many with first-floor bedrooms, ranging in size from 1,850 to 2,600 square feet. The units feature open floor plans, LED lighting, state-of-the-art HVAC, sound systems, Smart Home technology and spacious kitchens with high-quality appliances, and several capture the salt marsh views. With 57 approved condos, the development represents over $56 million in new inventory for Guilford.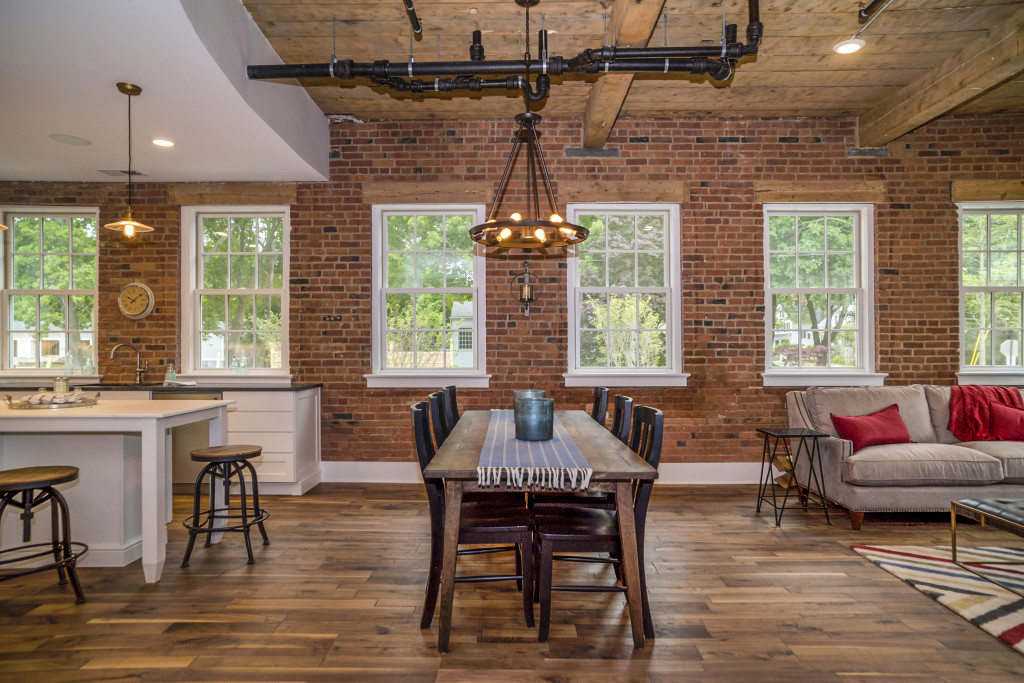 To fully realize their vision, Horton and Nault have put together a dream team with significant experience in historically sensitive projects. They're working with architect Robert Grzywacz of DeCarlo & Doll, who has won the Connecticut Trust for Historic Preservation Merit Award, and landscape architect Towers-Golde, which has completed work on the New York Botanical Garden, the expansion of Hartford's Bushnell Theater and more.
"We wanted to create a little micro neighborhood within Guilford and the historic context of the town," notes Grzywacz. "The Mill is the starting point and sets the tone, and then we have three new buildings that look like large single-family houses and invoke the traditional vocabulary of New England homes, with prominent entries and roofs, clapboards and trim, and double hung windows. At the same time, the buildings are all about modern performance and features, with materials that are very durable." Helping to achieve that "micro neighborhood" feel, the development places just as much importance on its surroundings as it does on the condos. An intimate courtyard that all units will face unifies the community, while the beauty of the grounds has been enhanced by adding 30-foot trees and relocating power lines underground to ensure unobstructed views.
It's going to be an asset to the town: one of those places people will come and say, 'Look how nice a new development can be,'" Grzywacz says excitedly. "It's totally unique; there is nothing else like it."
For more information on the Residences at 66 High Street in Guilford, Conn., visit www.66highst.com, or contact Guilford Brokerage agents Peter W. Cowie at 203. 500.4422 or by email at [email protected], Nikki Travaglino at 203. 415.3053 or [email protected], or Anne Scandone at 203. 606. 7696 or [email protected].