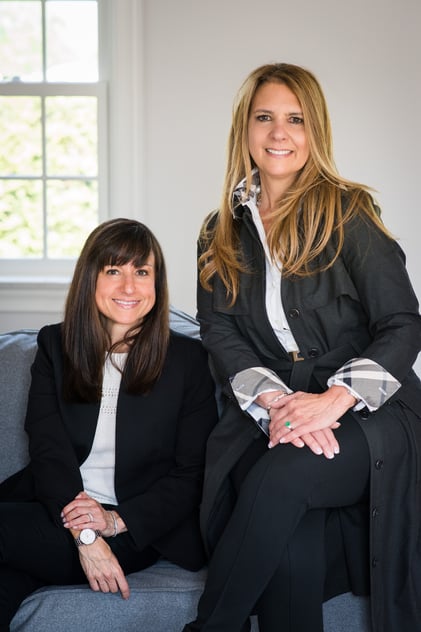 LM Homes Team
of William Pitt Sotheby's International Realty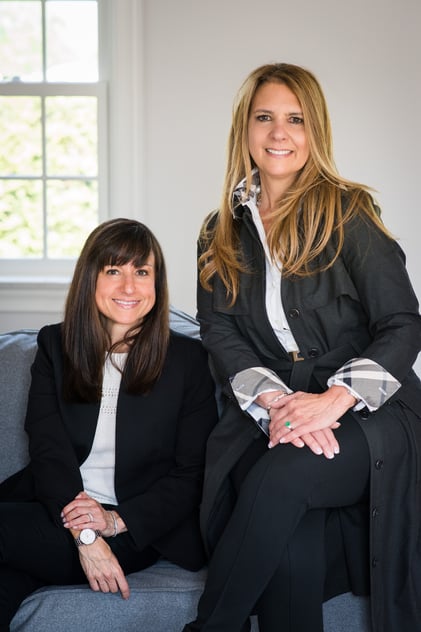 Westport
199 Post Road East
Westport, CT 06880
Lainie Floyd & Mersene Norbom are one of the most trusted real estate teams in the industry. Together they bring an all-new level of attention and a one-stop shop of services to their clients.
With their fresh, modern vision and hands-on creative approach to home buying and selling, they've fast become the go-to team in Fairfield County. Clients call them a power duo and a winning combination who flawlessly execute on every detail of a transaction from consultation to closing.
Collectively Lainie & Mersene have more than two decades of real estate experience and blended expertise in sales, marketing and design – yet it's their easy synergy and dynamism that truly sets them apart.
Lainie is exceptionally detail oriented, attending to every task with an analytical mindset and a very solutions-driven approach. Mersene is a customer service specialist with boundless creativity and a discerning eye. She's also a relocation expert and an accredited home stager, who regularly demonstrates how her flair for design can have a profound impact on the sale of a home.
As a team, Laine & Mersene have their clients covered – whatever the need, they attend to it so the process is not just seamless but enjoyable! Unparalleled in their energy and dedication, they have a unique ability to cut through the noise and achieve the best possible results.
Relationships are at the heart of Lainie & Mersene's business. They listen, they're intuitive and they do an enormous amount of due diligence so their clients feel confident and prepared to make decisions. They have an unrivaled network of connections – from Lainie's 25-years' living in Westport, to Mersene's expat network having lived an international life prior to moving to Westport, to their own Sotheby's network of highly respected agents both local and global.
Lainie and Mersene take great pride in their work and it shows. Their very positive outlook and gratitude shines through every aspect of their professional and personal lives. While their children are now grown, they remain very involved in their lives and they share a love of animals, always giving back to local shelters and charities.
READ

MORE

LESS
Languages Spoken

Greek

Born In

Lainie born in Brooklyn NY, Mersene in Mississippi

Live In

Westport CT, 20+ years

Passion

Styling homes

Interests

We love all animals!, Animal Rescue, Traveling, Cooking

Can't Live Without

Family and dogs!
READ

MORE

LESS
Agent Designations
Licensed Real Estate Salesperson
Waterfront Property Specialist
Certified Negotiation Expert
Our Awards
2022 LM Homes Team #1 in Dollar Volume & Units for Top Office Team
2021 LM Homes Team #1 in Dollar Volume for Top Office Team
Our Specialties
Certified Real Estate Negotiator
Accredited Home Stager
Certified Probate Specialist
Relocation
Testimonials (15)
Lainie Floyd & Mersene Norbom are a terrific real estate brokerage team.  I recently worked with them to find my new home.  I can honestly share that both Lainie and Mersene are committed to finding the best-suited home for you as that is exactly what they did for me.Throughout my experience with them, we were in constant communication about properties.   They kept me apprised of what was entering the market and what changes were occurring to properties of interest.  Together we explored many possibilities and determined if they were right for me.  Subsequently, we would determine a plan including what a solid bid would be for a property to ensure it would be considered.  Lastly, the combination of both agents allowed me to feel confident in my decisions as each brings something different to the analysis of a home. They each bring their strengths to contribute to the process.  I was thrilled with the attentive service and thoughtful, creative advice I received from this dedicated, dynamic duo. Susan Robison
There are really not enough words to describe just how appreciative I am of everything you have done for me!  And yes, you definitely went over and above with all the extra things you did - I appreciate it and you!  I know for a fact that you do a lot for your client's but this was a lot.   Thanks Ladies - you did an excellent job of keeping me from losing my mind and then there's ALL the extra work that you did!!!  I'm sure that it was more extra work than you would have liked!You're truly the best and I'm so grateful for you and your professionalism as well as friendship!!   LJ
Working with the LM team was a pleasure. Lanie and Mersene were knowledgeable and responsive as we listed and rapidly sold my home. They were helpful and professional as they guided me through the entire process. I cannot recommend them highly enough. Lynn Breidenbach, Seller
Creative, Energetic, and on-point in every way. Mersene and Laine held our hands and hearts through the whole process of change. They were dedicated to our business as well as the care and concern of the home. They were accessible at all times and pulled out all the stops making the process of finding buyers that fit, all the while making sure they listened to our needs and our desires, they honored that we mattered and came first. They were patient and honestly made it fun! JoJo Keane
We can't say enough about working with Lainie and Mersene. It felt like we were house hunting with family! They are both great listeners, smart, kind, and loving, and they top that off with knowledge of the area/ market, perfect professionalism, and ruthlessness whenever necessary. They are incredible advocates for their buyers. To top it off, we were first time buyers and Lainie and Mersene walked us through every step of the process. They helped us find the right loan, an attorney, inspector, etc. They continue to make local service recommendations for us as well - way above and beyond their remit. You won't regret working with these women - they are experts in what they do and take good care of their people. Josie Amendola and Patrick Barker
As my closing date fast approaches, I wanted to reach out and say how much I appreciated the staging work you did for both of my houses. Last summer, you made my home more beautiful than I imagined possible. It rented immediately and that's because of how you prepared it for rental. Then, when I changed my mind about owning a second home, you were able to stage it so that I could put it on the market right away. I was so grateful for your special touch. Plus, there was very little monetary output in terms of purchasing items for the homes in either case. I was thrilled with your hourly fee and how quickly you and Liz did your magic using my own furniture, both times! In fact, I didn't want to leave either house after you did your thing. It goes without saying how much I also appreciated your real estate skills. Your willingness to do open houses every Thursday and Sunday were key to getting my house sold, during the Holidays even! I can't thank you enough, Mersene. Please let anyone who is thinking of using you for staging or selling their home to give me a call. TANYA
Mersene Norbom is amazing. Mersene is extremely professional, provides quick and accurate information, knows the community well, and actively seeks to understand my needs and ways to fulfill them. AARON SEYMOUR
Lainie Floyd has offered assistance in the sale of my home in NY. I would encourage anyone to buy or sell with her expert assistance. She is straight forward, honest and amazingly friendly at the same time. LINDA FULLER
I have worked with Lainie on various transactions throughout the years. Each and every time she has gone the extra mile to get the job done. Lainie's professionalism and dedication combined with her sunny disposition, make for a winning combination. I will recommend her wholeheartedly and enthusiastically. ALI WARD (WESTPORT)
Throughout this process Lainie Floyd consistently displayed professionalism, kindness and expertise in the field. She was accessible, reliable, patient and always available to address our changing needs. CHRISTINE FORNABIA & DESMIN BORGES (WESTPORT)
My husband and I had a great experience working with Lainie! She helped us find and purchase our first home - and was incredibly knowledgeable and helpful throughout every step of the process. Lainie knows the CT area very well, and also has recommendations for any type of service you'd need! She is the best and we loved working with her! GABRIELLE FRANK
Lainie is great - she is the boots on the ground everyone needs and helps to get the job done and done right!  Jessica Washburn-Gonzalez
We used Lainie and Mersene (LM Homes) to find us a home in the Westport/Southport area. They were instrumental in negotiating a tricky purchase. Their professionalism, experience, support, toughness and tact got the job done. They are just tireless agents in the way they represent clients. No detail is overlooked and their commitment is unparalleled. We have never experienced better. You would be fortunate to have them represent you! Michael & Marigrace Lalli
Lainie and Mersene are absolutely fantastic to work with. Truly a power duo! They did a great job finding homes that fit our needs, and were always flexible with our ever changing schedules. Lainie has tremendous knowledge of the Fairfield County market, and Mersene is a talented designer who really helped us visualize each home's potential. We would strongly recommend LM Homes, and will certainly be using them again in the future! John & June Chestnut
Mersene and Lainie went over and beyond-Having two agents made such a difference than my past experiencesWe would reccomend this team to anyone in the process of buying or selling which we did both with them- Their referral was fantastic as well when we  bought a home in Florida.They are an outstanding duo!The Desrosiers
LM Homes Team in the News
Yes, I would like more information from Sotheby's International Realty. Please use and/or share my information with a Sotheby's International Realty agent to contact me about my real estate needs.
By clicking Send Message, I agree a Sotheby's International Realty Agent may contact me by phone or text message including by automated means about real estate services, and that I can access real estate services without providing my phone number. I acknowledge that I have read and agree to the Terms of Use and Privacy Policy